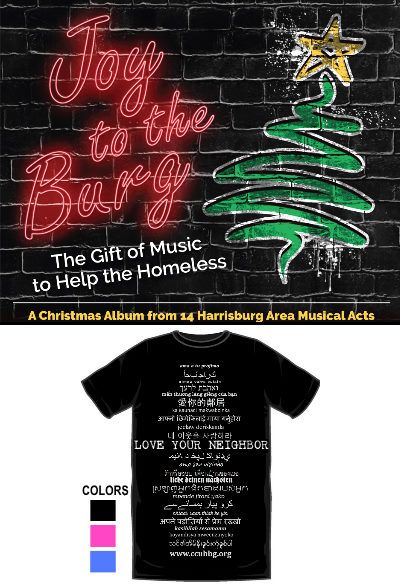 Joy To The Burg is a Christmas album...a collection of Harrisburg area musicians performing Christmas classics and originals on one CD. All proceeds benefit the homelessness programs of Christian Churches United: HELP Ministries and Susquehanna Harbor Safe Haven.
Track List
1. O Holy Night, Shea Quinn
2. Joy to the World, Anthony Pieruccini Trio
3. Go Tell It On The Mountain, Canaan's Land
4. Angels We Have Heard On High, Crossfire3
5. We Three Kings, The Steve Rudolph Trio 
6. God Rest Ye Merry Gentlemen, The Goods
7. Run Run Rudolph, Grant Bryan Band
8. Rescue, Leap of Faith
9. Winter Wonderland, Grumpy
10. Christmas For Cowboys, Loco Lobo
11. Carol Of The Bells, No Last Call
12. Greensleeves, Ryan Chilcote
13. Have Yourself A Merry Little Christmas, Dred "Perky" Scott & The Steve Rudolph Trio
14. The Work Of Christmas, Susquehanna Chorale
Available via download or CD, or in a bundle with our Love Your Neighbor T-shirt (featuring the phrase "Love Your Neighbor" in 23 languages).
Suggested Donation Amounts:
Album (CD): $20 (includes download if ordered online)
Album (download only): $15
5 or More Albums: $15/CD and $12/download

(HINT HINT: These make great Christmas gifts!)

BUNDLE: Album (CD with download) AND Love Your Neighbor T-shirt: $35
BULK ORDERS: Contact Steve Schwartz at (717) 230-9550 or sschwartz@ccuhbg.org to discuss suggested donation for albums and shipping costs on orders of 20 or more albums.
Suggested donation amounts above are for items picked up at the CCU Offices, 413 S. 19th Street, Harrisburg, PA or at a CCU event. If you want your items shipped, Please add $3 for 1-3 CD's and $.50 for each additional CD; $3 for first shirt and $1 for each additional shirt.
100% of album and concert proceeds directly support the homelessness programs of Christian Churches United including HELP Ministries' preventative, short-term and long-term solutions to homelessness and Susquehanna Harbor Safe Haven's long-term housing for men who were chronically homeless as well as its winter overnight safe haven for men on the street.