46th Annual HELP Ministries Golf Tournament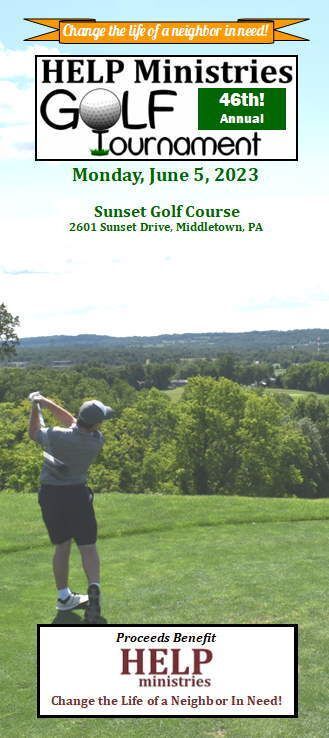 Please register by: May 25, 2023
Schedule:
7:15am: Registration/Refreshments
8:00am: Shotgun Start (18-hole team scramble)
With Lunch/Awards Following
Your Registration Includes:
--Support of HELP Ministries Programs
1. Your neighbor experiencing homelessness to have shelter and support to gain long-term housing
2. Those in a financial crisis to navigate the situation and avoid becoming homeless
3. Others with medication, travel or other crisis aid
--Cart Rental and Greens Fees: 18 Hole Team Scramble Format
--Team/Skill/Door Prizes
--Mulligans: Max 8 per team, may be purchased using this registration system OR at the registration area
--Silent Auction: Variety of items and gift certificates...your item donations are welcomed!
--Food: Refreshments on course; Buffet luncheon
Your Impact:
--$3,000 helps a homeless family get into an apartment
--$1,500 helps a person on the street obtain housing
--$750 prevents homelessness with rent assistance
--$400 keeps the heat on for a fixed income household
--$300 provides 10 newly employed individuals with bus passes
--$100 provides life-saving medication
Contact Steve Schwartz at sschwartz@ccuhbg.org or (717) 230-9550 for info or questions.
Sponsorship:
HOPE & HELP Team/Sponsor: $3,000
--8 golfers, 2 hole signs, full pg ad, banner placement (provided by sponsor), overall event spotlight
--IMPACT: Providing HOPE and HELP through HELP Ministries
RAPID REHOUSING Team/Sponsor: $1,500
--4 golfers, 2 hole signs, full page ad, lunch spotlight
--IMPACT: Help homeless households quickly gain long-term housing
HOMELESS PREVENTION Team/Sponsor: $750
--4 golfers, 1 sign, 1/2 pg ad, snack stand spotlight
--IMPACT: Help households resolve a crisis and avoid homelessness
HELPING HAND Sponsor: $300
--1 hole sign, quarter page ad
Registration:
Golf Team w/ Hole Sponsor: $500 (4 golfers w/ hole sign)
Golf Team: $400 (4 golfers)
Individual Golfers: $100
Additional Options:
Hole Sponsor: $150 (1 hole sign; name in program)
Patron/Remote* Golfer: $50 (name in program)
* Typically about $50 of your registration fee goes to program support...so this is a way you can support the programs of HELP Ministries if unable to golf this year.
About HELP Ministries
HELP Ministries, a program of Christian Churches United of the Tri County Area, is supported by local churches, businesses, foundations, government agencies, concerned individuals, CommunityAid, the United Way of the Capital Region, and this golf tournament.
HELP Ministries supports our neighbors facing homelessness, crisis situations, or poverty to find housing, keep the heat on, or overcome other barriers to stability. You can help individuals, kids and families avoid or overcome the trauma of homelessness. Register today to change the life of a neighbor in need!