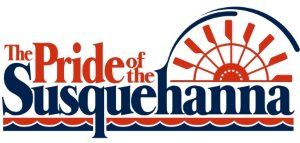 Most Sundays over the summer you can worship with us on the Pride of the Susquehanna Riverboat, leaving at 10am from City Island in Harrisburg. Due to the COVID-19 pandemic, we must remain flexible as to which Sundays we are able to provide a service. Check this page for updates. 
The Pride of the Susquehanna is now operating with reduced capacity of a maximum of 40 guests to accommodate social distancing. Masks will be required for all attendees. 
Worship is typically led by a different local pastor, church or group each week. The cruise starts at 10:00am and lasts until around 11:15 AM. There is no cost to board, but seating is limited due to the pandemic and registration is required to ensure a spot on the boat (see our Schedule below or our Events Calendar to register for a specific service). 
Registered guests should arrive between 9:30am and 9:45am to be guaranteed a spot on the boat. Walk-on guests who haven't registered will only be accepted if there is still room on the boat at 9:55am. Registered guests arriving after 9:45am will not be guaranteed a spot on the boat. 
Freewill Offering: A freewill offering will be taken as you depart the boat. The offering is divided evenly between the Harrisburg Area Riverboat Society (to support riverboat operations) and Christian Churches United (to support the work of HELP Ministries). HELP Ministries provides emergency assistance to individuals and families in crisis, including: access to emergency shelter, rental assistance to prevent or end homelessness, utility assistance, and other emergency help, case management and referrals.
2020 Riverboat Worship Service Schedule
| Date | Message/Church/Group | Special Guests | Register |
| --- | --- | --- | --- |
| June 28 | Edward Zook, Herr St. Mennonite Church | | CLOSED |
| July 26 | Rev. Karin Pejack, Zion Lutheran Church, Harrisburg | | CLOSED |
| August 2 | Pastor Vera Brown, The GOD is LOVE Family, Inc | | CLOSED |
| August 9 | Dave Dulaney | w/ Canaan's Land Bluegrass Band | CLOSED |
| August 16 | Rev. Betty Norford, West Shore Baptist Church | | CLOSED |
| August 23 | Rev. Leah Payne, In His Presence Ministries | | CLOSED |
| August 30 | Rev. Herbert Bomberger | | CLOSED |
| September 6 | Rev. James Lease, Saint Catherine Laboure Parish | | CLOSED |
| September 20 | Rev. Dr. Arthur L. Brown, Tabernacle Baptist Church | | CLOSED |
| September 27 | Rev. Dr. Rodney D. Smalls, Macedonia Missionary Baptist Church | | |
Please watch our e-news or this page for information about changes to these services. If you have questions about the service or if your church would be potentially interested in hosting a service, contact Darrel Reinford at dreinford@ccuhbg.org or (717) 230-9550.