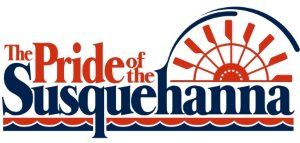 Most Sundays over the summer you can worship with us on the Pride of the Susquehanna Riverboat, leaving at 10am from City Island in Harrisburg. Worship is typically led by a different local pastor, church or group each week. The cruise starts at 10:00am and lasts about an hour. There is no cost to board but seating is limited. 
Freewill Offering: A freewill offering will be taken as you depart the boat. The offering is divided evenly between the Harrisburg Area Riverboat Society (to support riverboat operations) and Christian Churches United (to support the work of HELP Ministries). HELP Ministries provides emergency assistance to individuals and families in crisis, including: access to emergency shelter, rental assistance to prevent or end homelessness, utility assistance, and other emergency help, case management and referrals.
2022 Riverboat Worship Service Schedule
| Date | Message/Church/Group |
| --- | --- |
| June 5 | Pastor Dave Dulaney w/ Canaan's Land Bluegrass Band |
| June 12 | Pastor Justin Douglas, The Belong Collective |
| June 19 | Pastor Omar Zook, Hershey Free Church |
| June 26 | Pastor Ed Zook, Herr Street Mennonite Church w/ the Allen Family |
| July 3 | No service due to holiday weekend events |
| July 10 | Rev. Dan Schmidt, St. Thomas United Church of Christ |
| July 17 | Rev. Sue Schmidt, Salem United Church of Christ |
| July 24 | Rev. Dr. Rodney Smalls, Macedonia Missionary Baptist Church |
| July 31 | Rev. Dr. Arthur L. Brown, Tabernacle Baptist Church |
| August 7 | Rev. Karin Pejack, Zion Lutheran Church, Harrisburg |
| August 14 | Rev. Betty Norford, West Shore Baptist Church |
| August 21 | Father James Lease, St. Catherine Laboure Parish |
| August 28 | Pastor Herbert Bomberger w/ The Trust Trio |
Please watch our e-news or this page for information about changes to these services. If you have questions about the service or if your church would be potentially interested in hosting a service, contact Darrel Reinford at dreinford@ccuhbg.org or (717) 230-9550.