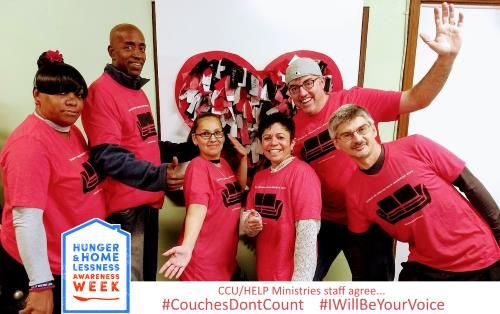 This year, Valley Youth House is partnering with the Capital Area Coalition on Homelessness (CACH), Educating Children and Youth Experiencing Homelessness (ECYEH), Christian Churches United (CCU) and others for the National Hunger and Homeless Awareness Campaign and "I will be your voice" drive. The purpose of this effort is to increase awareness of the issue of youth homelessness and the difficulties this population faces in Dauphin County through a series of event and activities held throughout the region, during the week of November 12-16th, 2018.
#CouchesDontCount raises awareness for the disproportionate rate of young people experiencing homelessness that are "couch surfing", or staying with friends or acquaintances rather than sleeping unsheltered. Some studies have suggested as high as 64% of youth experiencing homelessness are "couch surfing" as means of shelter.
The message is clear: #CouchesDontCount as stable housing for any young person experiencing homelessness.  More can and should be done to support these young people in finding resources, shelter, and transitional housing, with the ultimate goal of achieving independence & stability.