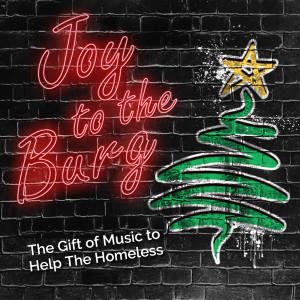 HARRISBURG, Pa. (Oct. 30, 2019) – Fourteen Harrisburg bands and musicians will partner with Christian Churches United (CCU) to benefit the homeless during the holiday season. The album, "Joy to the Burg," will be unveiled during a press conference and musical performance at 11 a.m. Thursday, Nov. 7, in the Capitol Main Rotunda. The album, envisioned by philanthropist and musician Sheldon Jones of the band Loco Lobo, will be available for purchase on compact disc or by digital download at www.joytotheburg.com.
WHO: Local musicians
1. O Holy Night, Shea Quinn
2. Joy to the World, Anthony Pieruccini Trio
3. Go Tell It On The Mountain, Canaan's Land
4. Angels We Have Heard On High, Crossfire3
5. We Three Kings, The Steve Rudolph Trio 
6. God Rest Ye Merry Gentlemen, The Goods
7. Run Run Rudolph, Grant Bryan Band
8. Rescue, Leap of Faith
9. Winter Wonderland, Grumpy
10. Christmas For Cowboys, Loco Lobo
11. Carol Of The Bells, No Last Call
12. Greensleeves, Ryan Chilcote
13. Have Yourself A Merry Little Christmas, Dred "Perky" Scott & The Steve Rudolph Trio
14. The Work Of Christmas, Susquehanna Chorale
WHAT: "Joy to the Burg"
WHEN: 11 a.m. Thursday, Nov. 7
WHERE: Main Capitol Rotunda, Harrisburg 
About Christian Churches United
Since 1978, CCU has served those facing homelessness, poverty or incarceration in Dauphin, Cumberland and Perry counties. CCU partners with more than 100 Christian congregations in the area to provide social service programs to community members and work with grassroots efforts to support those in need. For more information, visit www.ccuhbg.org. 
Contact: David La Torre, david@latorrecommunications.com or 717-608-6337