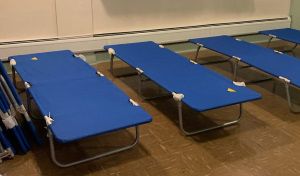 "You can tell who the new ladies are. They are disoriented, scared, often crying." This is Gillian Sumpter—the program manager of our new Winter Overnight Shelter for Women and Non-Binary Persons—sharing as she prepares to open the doors on a cold, drizzly winter evening.
It was about 7:30pm on a Tuesday. Three volunteers arrived to help with intake and hospitality. A group from a local church was setting up a crockpot dinner for the women who were about to enter.
The shelter opened December 21, the first night of winter, just before Christmas. In the fall, we learned last year's hazardous weather shelter for women would not be able to continue this winter...a place where women can walk-in on cold winter evenings when the 30 day shelters in town are often at capacity. After some deliberation, Grace United Methodist Church downtown, in the shadow of the state capital building, offered space. Thanks to our Joy to the Burg Christmas album/concert, we had some new funds available, so we jumped into the fray. With multiple rooms available, we were also able to fill a community need for shelter space for non-binary persons, individuals whose gender identity doesn't conform to guidelines of other area shelters.   
Gillian reports we are seeing 16-20 women per night, about double last year's walk-in shelter. Many of the women have been chronically homeless, on the street for 3-5 years. One of our case workers from HELP Ministries, Aisha, stops by twice a week to help women connect with longer-term housing resources, or medical or mental health services. In our first six weeks of operation, a few have gotten into longer-term programs and several have obtained employment.
The shelter has also been a key resource for people in crisis, with women brought by police from the emergency room. They need a place to stay that night until they can connect with local support services the next day. 
This shelter has truly been a community rallying to love our neighbors in need. Visit us online if you'd like to volunteer (www.ccuhbg.org/woswn) or donate (www.ccuhbg.org/donate), or call Gillian at (717) 770-9189.