3rd Annual MLK Day Anti-Racism Event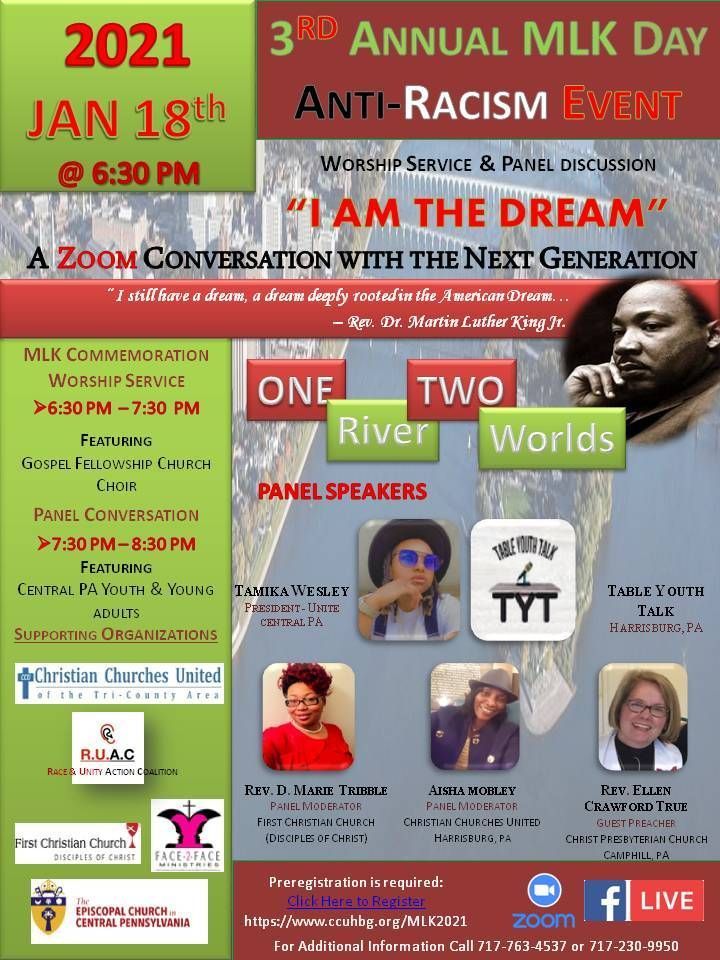 "I Am The Dream"
6:30-7:30pm - MLK Commemoration Worship Service* featuring Gospel Fellowship Church Choir
7:30-8:30pm - Panel Conversation with the Next Generation
Panel to include:
- Tamika Wesley, President, Unite Central PA
- Table Youth Talk, Harrisburg, PA
- Re. D. Marie Tribble, Co-Moderator
- Aisha Mobley, Co-Moderator
* The Commemoration Worship Service will include the celebration of Communion. You are encouraged to have communion elements with you wherever you are watching to join in this part of the service.
Pre-registration is required. For additional information call (717) 763-4537 or (717) 230-9550.
Supporting Organizations:
- Christian Churches United
- Race & Unity Action Coalition
- First Christian Church, Disciples of Christ, Lemoyne
- Face to Face Ministries
- The Episcopal Church of Central Pennsylvania
Pre-registration required. Click Pre-Register above and submit your Name and E-mail and you will receive a Zoom link prior to the meeting.
Pre-registration:
1) On the first screen, enter the number of people you are registering
2) Click continue, and enter the names of each person attending
3) Click continue, and enter your name and e-mail address. (if you are registering for just yourself, you have to enter your name on each page, sorry.)
4) If registering for multiple people, after receiving the confirmation e-mail with Zoom link, please forward the Zoom link to your other registrants.