44th Annual HELP Ministries Golf Tournament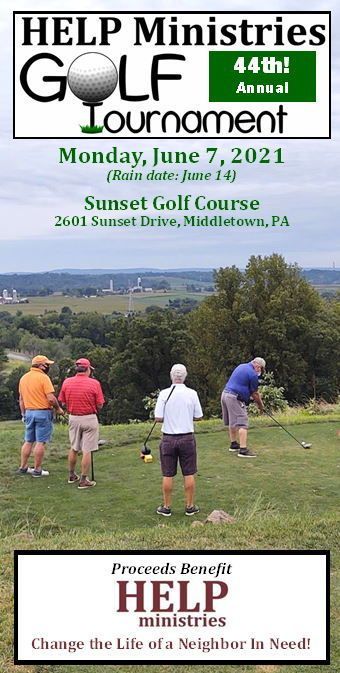 Schedule:
7:15am: Registration/Refreshments
8:00am: Shotgun Start (18-hole team scramble)
With Outdoor Lunch Following
Course Imposed COVID-19 Adjustments
1. Arrive, check-in, go directly to hole. You can practice at hole until start.
2. Elements that lead to congregating at the start, such as mulligan purchasing and donuts, are eliminated. (Mulligans can be purchased NOW via this website.)
3. Mask required in and around clubhouse. Once on course, each team can choose for themselves their comfort level with masks.
4. Currently, golfers may ride 2 to a cart. This may change. Please exercise sensible social distancing at all times around your teammates and other teams.
5. Due to limited volunteers, skill prizes requiring witnesses (i.e. hole-in-one) are eliminated. Other skill prizes (longest drive, closest to pin, etc.) continue.
6. Lunch/Awards will be provided outdoors.
The above adjustments are subject to change due to guidance from the course or health/government officials. We appreciate your patience and understanding this year. Contact Steve Schwartz at sschwartz@ccuhbg.org or (717) 230-9550 for info or questions.
Sponsorship:
HOPE & HELP Team/Sponsor: $3,000
--8 golfers, 2 hole signs, full pg ad, banner, overall event spotlight, market exclusive
--IMPACT: Providing HOPE and HELP through HELP Ministries
RAPID REHOUSING Team/Sponsor: $1,500
--4 golfers, 2 hole signs, full page ad, lunch spotlight
--IMPACT: Help homeless households quickly gain long-term housing
HOMELESS PREVENTION Team/Sponsor: $750
--4 golfers, 1 sign, 1/2 pg ad, snack stand spotlight
--IMPACT: Help households resolve a crisis and avoid homelessness
HELPING HAND Sponsor: $300
--1 hole sign, quarter page ad
Registration:
Golf Team w/ Hole Sponsor: $500 (4 golfers w/ hole sign)
Golf Team: $400 (4 golfers)
Individual Golfers: $100
Additional Options:
Hole Sponsor: $150 (1 hole sign; name in program)
Patron/Remote* Golfer: $50 (name in program)
* Typically about $50 of your registration fee goes to program support...so this is a way you can support the programs of HELP Ministries if unable to play this year.
Registration Includes:
--Cart Rental and Greens Fees
--Team and Skill Prizes/Awards
--Refreshment Stand & Outdoor Lunch
--Support of HELP Ministries Programs
About HELP Ministries
HELP Ministries, a program of Christian Churches United of the Tri County Area, is supported by local churches, businesses, government agencies, concerned individuals, PPL, Community Aid, the United Way of the Capital Region, and this golf tournament.
HELP Ministries is supporting those who lost jobs, had their small business shut down, or otherwise had significantly reduced income to pay their rent during the COVID-19 pandemic. You can help individuals, kids and families avoid the trauma of losing everything and having to start over. Register today to change the life of a neighbor in need!