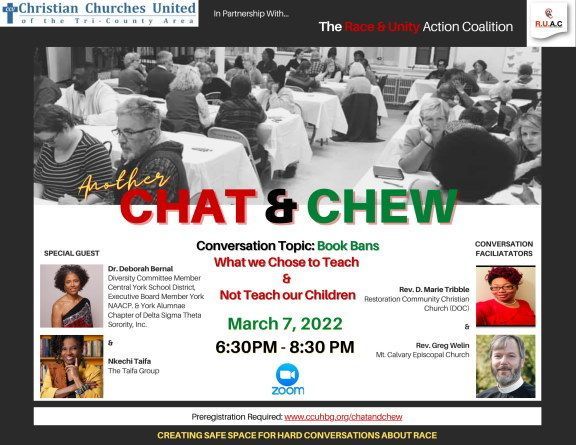 Hosted by the Race & Unity Action Coalition...sharing our stories about race in the capital region.
Join us for this 2 hour discussion via ZOOM. We will be discussing Book Bans: what we choose to teach and not teach our children.
Pre-registration required. Click Pre-Register above and submit your Name and E-mail and you will receive a Zoom link prior to the meeting.
Pre-registration:
1) On the first screen, enter the number of people you are registering
2) Click continue, and enter the names of each person attending
3) Click continue, and enter your name and e-mail address. (if you are registering for just yourself, you have to enter your name on each page, sorry.)
The Race and Unity Action Coalition is a wonderfully diverse group of people from congregations on the East and West Shore interested in continuing the conversation on race and the local impact of racism.