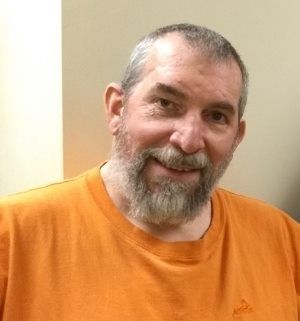 We were sharing about our Winter Overnight Safe Haven (WOSH) when Don chimed in. Executive Director Darrel Reinford and I were speaking to the adult Sunday School class at St. John's Lutheran Church in Shiremanstown in January. As it turns out, 5 or 6 years ago Don was homeless and when it was too cold to sleep in his tent outdoors, he would come to the WOSH, located at our Susquehanna Harbor Safe Haven facility.
Don had been homeless off and on for several years. When he lacked housing, he slept in a tent next to an agency that provided day labor jobs on a first come first serve basis each morning. It was tough in winter. At one point he got a job working in a cold storage warehouse. "I'd bundle up and sleep out doors at night, then go work in a freezer all day. I could never get warm, but I did it because that's what I had to do."
When it got real cold or snowy, he'd ride his scooter over to the Winter Overnight Safe Haven. "I appreciated the warm place to sleep and the hot coffee. And the chair at the end of my mat that held my backpack, my helmet, everything I owned."
In the morning he'd go back to the day labor office and hope to get selected for work.
During a stint in Dauphin County Prison, Don felt drawn to nurture his spiritual life. He attended worship services on Sundays, occasionally at CCU's Sunday afternoon service for men and women from Dauphin County Prison's Work Release Center. When he was released, he wanted to find a church.  He grew up in Lower Allen and his mom still lived there. She mentioned that when Don was a boy he was baptized at St. John's Lutheran Church nearby. He thought he'd check it out.
"In NA [Narcotics Anonymous], they tell you a lot of people plant seeds in your life, others water those seeds, eventually those seeds of support will bloom. I found a lot of support at St. John's. Joan and Harvey sort of adopted me, sitting with me in church each Sunday. Tom bought me my scooter with the understanding I'd return it once I got other transportation." Don went on to share how Tom noticed the scooter, which wasn't fast enough for the highway, was making it difficult for Don to get to work a good distance away. So Tom bought him a motorcycle with the agreement he'd pay it off. Don was grateful and returned the scooter.
Sadly, Don got into a severe motorcycle accident. During his months in rehab, Pastor Mike of St. John's would come to visit regularly. Don eventually got discharged to a shelter in Carlisle where they helped him find an affordable apartment in Mechanicsburg, near his church. Friends from church pick him up for Sunday service and weekly bible studies, and help him get to doctor appointments. 
"I used to be able to do for myself, so I relied on myself and not God. Since the accident, I can't do as much for myself, so I have to rely on God." God often takes care of him through his church family, and he is very grateful. "I wish I could do more. I couldn't pay Tom back for the wrecked motorcycle, but when the insurance check came because the bike was totaled, I signed it over to Tom. It was the right thing to do." 
Now he's looking for more ways to give back. Like volunteering at the Winter Overnight Safe Haven he used to sleep at on cold nights. The day we spoke to St. John's adult Sunday school was the first day St. John's was providing all the volunteers to run the WOSH for the next seven nights. Tuesday evening that week--a cold night with several inches of snowfall--Don was at the WOSH, now as a volunteer. He was helping to run the overnight safe haven and ensure 15-20 men had a warm, dry place to sleep. I stopped by in the snow to talk to Don a bit more. He was grateful for the opportunity to give back and help others, saying "somebody was there for me, now I can be there for someone else."
Don's had a lot of ups and downs. His church community has walked alongside him through much of it. CCU's ministries helped at key junctures. But now Don is in a place of stability for the first time in a long-time. And as he gets his strength back, he'd hoping to do more volunteer work, to help others in tough situations. 
Your support of CCU is paying it forward, and helping others to pay it forward as they get on their feet.  Whether it's a warm place to sleep at Susquehanna Harbor Safe Haven, or a child in need of a warm coat and decent shoes through Project A.S.K. Perhaps it's a single mom facing eviction coming to the HELP Ministries office in desperation, or the elderly person next to her in the waiting room in danger of having their heat turned off. Or maybe it is someone in Dauphin County Prison's work release center coming to our Sunday afternoon worship service, finding a supportive community and potentially a church family. 
You may never know the full impact of the many seeds of hope and healing you sow at CCU. But please know that we--Don included--are grateful.
Get Involved: