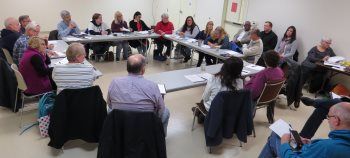 (Image Caption: Concerned individuals gathered at Susquehanna Harbor Safe Haven for the kickoff of the Compassion Action Network on Nov. 30, 2018)
We are excited to share two new efforts we're launching to help end homelessness for people living on the streets of Harrisburg.
#1. Rapid Rehousing for Street Homeless
Goal: Knock down barriers that make it a challenge for people living on the streets to obtain long-term housing.
Strategy: Get to know people on the streets and help coordinate their access to the appropriate housing options. Walk alongside those who are most vulnerable to navigate programs and paperwork, working closely with partner agencies and grassroots groups.
Where: A new mobile case manager will meet people on the streets, and have office space at both Market Square Presbyterian Church and Downtown Daily Bread, thereby accessible in the heart of downtown Harrisburg.
Background: The new position is primarily funded through the Home4Good grant program administered by the Pennsylvania Housing Finance Agency (PFHA) and the Federal HomeLoan Bank of Pittsburgh, with additional funding coming from Market Square Presbyterian Church, Downtown Daily Bread, and individual donors.
How You Can Help: Support this effort financially—you can give online at www.ccuhbg.org/donate or become a monthly supporter at www.ccuhbg.org/monthly—or through the volunteer efforts of the CAN (see below).
#2. Introducing the Compassion Action Network (CAN)
Goal: Get grassroots groups and established agencies working together to empower those on the streets to gain stable housing.
Strategy: CCU recently launched the Compassion Action Network for regular communication and idea sharing among grassroots groups, churches, social service organizations, and government agencies that work with folks living on the streets. By coordinating efforts, we can find creative solutions to housing challenges or other barriers. 
First Initiatives: Partnered with Christ Lutheran Church to provide "as-needed" shelter for women when temperatures were dangerously cold, made connections between grassroots groups that are now sharing storage space for donations.
Background: The Capital Area Coalition on Homelessness has identified coordination of these many outreach efforts as important for more strategic responses to homelessness in our community. The CAN intentionally wants to mobilize faith communities and other concerned individuals to be more effective in offering support to those who are homeless.
How You Can Help: Affordable housing and employment opportunities are vital! Help us find landlords and employers willing to work as partners with CCU and the CAN. Please contact Darrel Reinford at dreinford@ccuhbg.org or (717) 230-9550 if you or someone you know can be a resource. Also contact Darrel if you know a group that would like to be kept informed of opportunities for service through the Compassion Action Network.