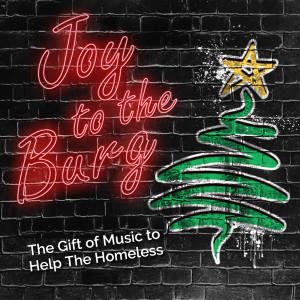 On November 7, 2019, Sheldon Jones and Christian Churches United will release Joy To The Burg: The Gift of Music to Help the Homeless. Joy To The Burg is a Christmas album featuring 14 Harrisburg area musical acts. 
The album was envisioned by philanthropist and musician Sheldon Jones of the band Loco Lobo as a way to help the homeless. 100% of album sales and concert ticket sales proceeds will go to support the homelessness programs of CCU: HELP Ministries and Susquehanna Harbor Safe Haven. All production costs and album/concert expenses are being covered by a number of generous sponsors and donors. 
Track List/Artist Info
O Holy Night, Shea Quinn (artist website)
Joy to the World, Anthony Pieruccini Trio (artist website)
Go Tell It On The Mountain, Canaan's Land (artist website)
Angels We Have Heard On High, Crossfire3 (artist website)
We Three Kings, The Steve Rudolph Trio (artist website)
God Rest Ye Merry Gentlemen, The Goods (artist website)
Run Run Rudolph, Grant Bryan Band (artist website)
Rescue*, Leap of Faith
Winter Wonderland, Grumpy (artist website)
Christmas For Cowboys, Loco Lobo (artist website)
Carol Of The Bells, No Last Call (artist website)
Greensleeves, Ryan Chilcote of Forever Mourning (artist website)
Have Yourself A Merry Little Christmas, Dred "Perky" Scott & The Steve Rudolph Trio (artist website)
The Work Of Christmas, Susquehanna Chorale (artist website)
* Original recording for Joy To The Burg
The album is available for purchase on compact disc or by digital download at www.joytotheburg.com. A concert on December 8 at the Rose Lehrman Performing Arts Center will feature 9 of the 14 artists from the album playing their songs from Joy To The Burg along with other selections.