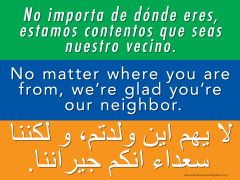 Order a Welcome Your Neighbor Yard Sign
Sign comes in green/blue/orange background, with phrase "No matter where you are from, we're glad you're our neighbor" in Spanish, English and Arabic. 24 inches wide by 18 inches high. Includes metal ground stake.
Suggested Donation: $10 to cover cost of manufacturing (Contact our office to inquire about bulk pricing.)
NO SHIPPING AVAILABLE. Must be picked up at CCU Offices, 413 S. 19th Street, Harrisburg, PA 17104. For orders of 10 or more, we will consider delivering within a 10 mile radius.
Need a sign shipped? You can order it from this website or download artwork to print your own sign using their graphics. Please note that their graphics include many different signs in combinations of various languages if other languages are of interest to you.